Welcome to Green Bay (WI) Area Writer's Guild
Breaking (Broken) News: Due to the "community spread potential" of the Corona virus, the Untitled Town 2020 Book & Author Festival has been postponed! Organizers are hoping to resurrect the event later this year.
The Green Bay Area Writer's Guild (gbwriters.com) meets in the evening on the 1st Tuesday of every month at the Brown County Central Library in downtown Green Bay, Wisconsin.
Meetings begin at 5:30 p.m. and wrap up around 7:30 p.m. before the library closes at 8:00. Come early to socialize!
Our next meeting is Tuesday, April 7th, 2020 and will be held in the Board Room on the second floor of the library. We welcome guests and encourage sharing written pieces to receive feedback…if you'd like it. We just need to know what type of feedback you want. We try to limit readings to five minutes to give as many members a chance to participate. Check us out!
We had 15 members and two guests at our March meeting. Several questions were asked about publishing and promoting work, especially at the upcoming Untitled Town. Nine members and guests read excerpts of their work and received comments.
Guild Meeting Dates in 2020: April 7th, May 5th, June 2nd, July 7th, August 4th, September 1st, October 6th, November 3rd, and December 1st.
Meeting dates may change if the 1st Tuesday lands on a holiday.
Meetings are open to visitors. Anyone is welcome to attend. There are no membership fees, but if you become involved and want to be included on this website, contributions are accepted.
What happens at the meeting is members and guests share good news, i.e. books being published or signing with an agent, etc. There may be sharing of the previous month's writing exercise, but our main activity is reading what we've written and getting feedback from other writers in the guild. Positive critiques preferred.
If you're interested in learning more, please attend one of our meetings.
Jade Ring Contest: The Wisconsin Writers Association sponsors the annual Jade Ring competition for fiction, nonfiction, and poetry. There are entry fees but they're worth it.
Poetry Contest: If you love poetry, there's a contest sponsored by the Kimberly-Little Chute Library coming up with a deadline of April 15th. If you're interested in submitting, see the flier below.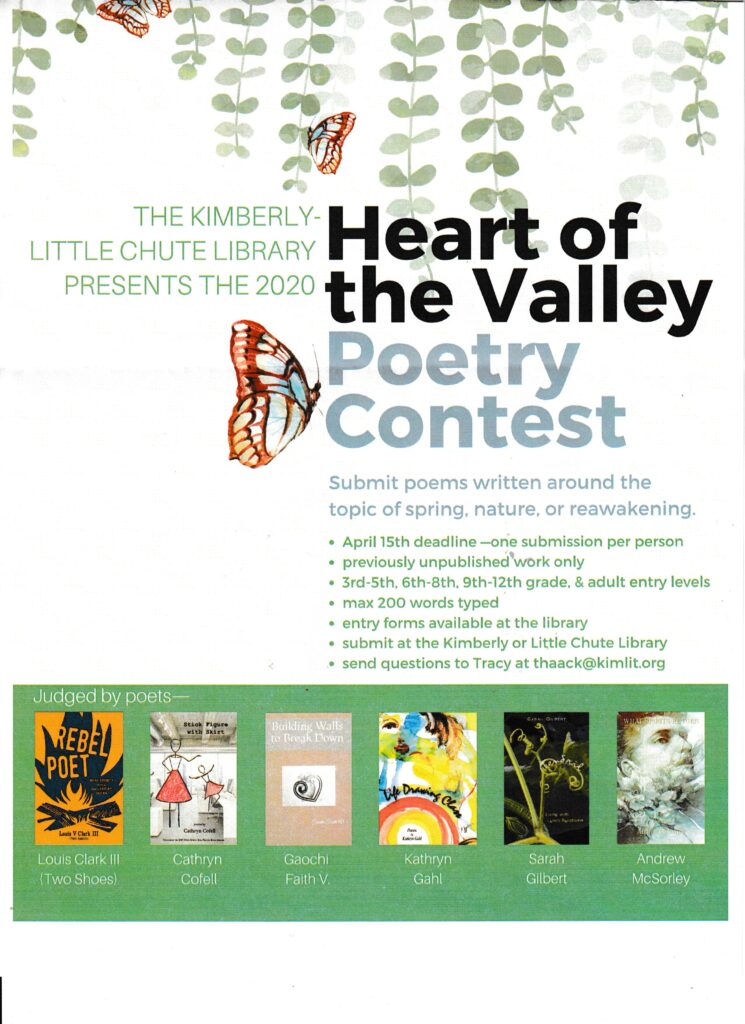 Writing Classes The Oneida Community Library offers writing classes on a regular basis. Check out the flier for more information.
If you have information about writing competitions or special programs, let us know and we'll put it here. Thanks to Lawrence Wilson for providing these updates.