H.G. Watts
H. G. Watts was born and bred in the Midwest with a brief stint in New York City.
As a young teen, she began writing professionally for a daily newspaper and received various awards for her work including national recognition for the youth section she edited.​
Watts has also worked professionally in television, radio, and in corporate communications where she edited a regional magazine. Her bachelor's degree in Journalism is from the University of Wisconsin-Madison.
​Watts's Faith and family are most important in her life. She likes to spend time at home or somewhere in Italy…enjoys reading…and occasionally draws or paints. She has a like-dislike relationship with golf. Her words to live by: "Thy Will be done."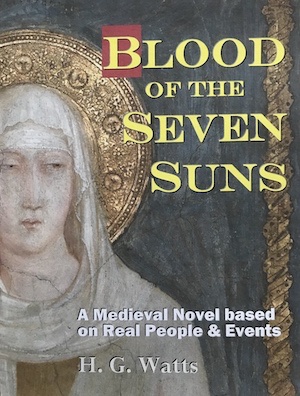 Her book "Blood of the Seven Suns: A Medieval Novel Based on Real People & Events" is available online from all major retail outlets including Amazon and Barnes & Noble. In Green Bay, her book is usually in stock at Cathedral Book & Gift and Lion's Mouth Bookstore. It can also be ordered through Barnes & Noble and local bookstores throughout the nation.
(ISBN: 978-1-7336239-0-2)
Watts is not on any social media sites. However, you can reach her through her website: HGWatts.com